A few of us at The Art of Dentistry decided to give ourselves a scare this Halloween and took a trip to Scaresville at Kentwell Hall in Long Melford. The brave team members included a couple of the dentists, all of the dental nurses, one of our hygienists and our practice manager (our nurses are clearly made of strong stuff).
So we all piled down after work one evening and admittedly everyone was feeling slightly nervous, not knowing quite what to expect. As we arrived we got our tickets (pre order, it's busy!) and waited for our group to be called for the Scaresville trail. They had an area to wait in called the Unfairground which was pretty fun, we took a couple of photos.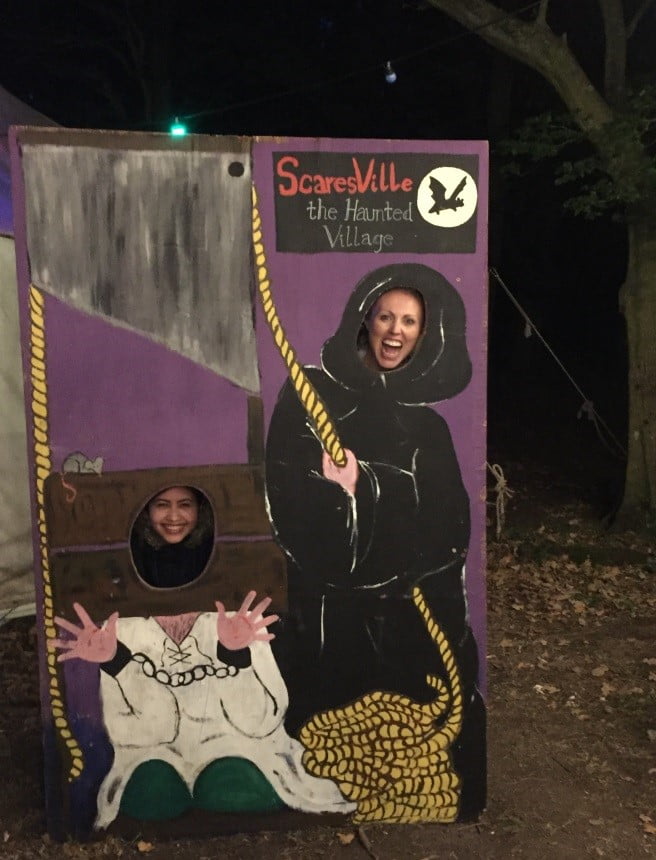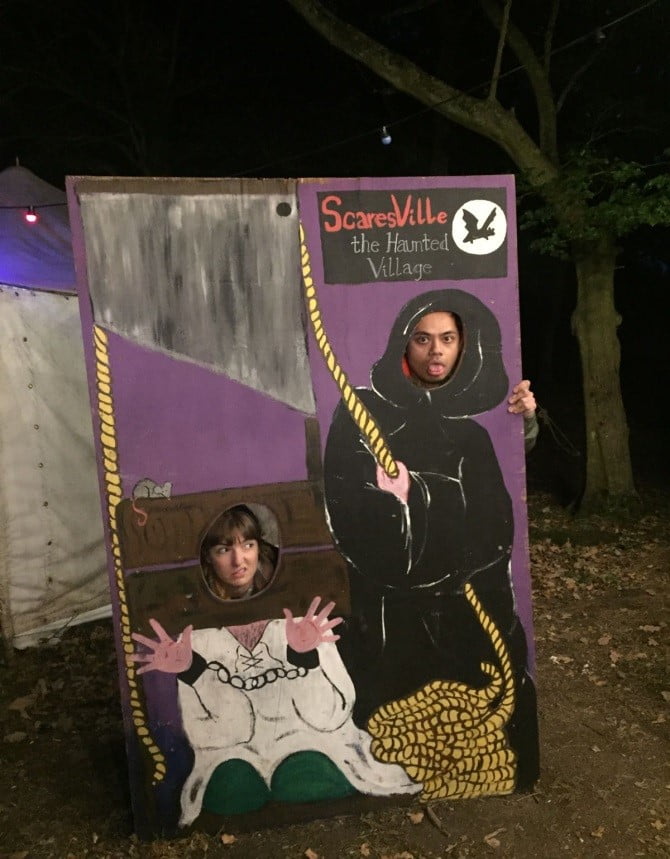 Left to right: Michelle (nurse), Judy (Hygienist). Susmita (nurse), Aine (Dentist/Practice owner), Trudy (nurse), Sean (Dentist).
We were then told to wait in the queue single file with our hands on the shoulders of the person in front. Sean being the only male had to step up and go at the front (I think he was more nervous about this prospect than he let on) and our practice manager Sheryl was happy to go at the back as nothing scares her! Everyone else were squeezed in between and admittedly feeling pretty wimpy.
Then we shuffled through together into pitch black…..and so it went on for quite some time as we made our way through various mazes. It was great to see the team pulling together shouting out directions and comforting words of encouragement to each other as we negotiated our way through tight gaps, uneven floor and round corners in pure darkness.
The whole trail took just over an hour to get through and involved lots of different scares, in and out of different buildings, chased through the woodland by men with chainsaws, shouted at by armed military and scared by clowns, zombies and several other imaginative set ups.
There was lots of laughing, running and screaming (mainly by Aine Marshall). It's safe to say we all had great fun and it was a great team building exercise!
So next time you may have a treatment with Aine that you may be feeling a bit nervous about, you can be reassured our dentists get scared too as she was definitely the one that jumped and screamed the most throughout!
And a Root Canal booked in with Sean you're worried about? We discovered Clowns are his weakness!
The rest of us I have to say were tough as nails…..though it didn't really surprise us that our nurses and practice manager aren't easily scared!
Oh yes and we can't forget Judy (hygienist) getting told off for answering back – No surprise there either!
Got any ideas for where the team should go for their next team trip to get their adrenaline pumping then let us know!